Thailand legal news
18 December 2018:

The Memory of the World Programme of UNESCO recently registered the Three Emblems Law (Ancient Thai law) as documentary heritage. Prior to this, there were five Thai documentary heritages, i.e. Archival Documents of King Chulalongkorn's Transformation of Siam, Epigraphic Archives of Wat Pho, the King Ram Khamhaeng Inscription, the Minute Books of the Council of the Siam Society, and the Royal Photographic Glass Plate.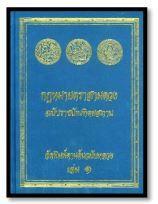 19 December 2018:

Low-interest loans for SME supported by the government are still available until 18 December 2019 (One-year extension from prior expiration date).
Monetary Policy Committee agreed to increase policy interest rate* from 1.50% to 1.75% (↑0.25%) per annum, effective immediately. Many banks (e.g. GSB, SCB, KBANK) have increased interest rate of fixed deposit account in accordance with this policy.
* The policy interest rate is an interest rate that the monetary authority (i.e. the central bank) sets in order to influence the evolution of the main monetary variables in the economy (e.g. consumer prices, exchange rate or credit expansion, among others). Increasing of policy rate may reflect that the country encountered inflation.
20 December 2018:

The Ministry of Commerce developed MOC e-Payment system (pay any bills under) to ease individuals and investors by providing various ways of payment i.e. by cash, credit card, mobile-banking application, and the most recent through Counter Service (start from 21 January 2019). This system is applicable for 5 departments under the MoC, 1). Department of Business Development (DBD), 2). Department of Foreign Trade (DFT), 3). Department of Intellectual Property (DIP), 4). Department of Internal Trade (DIT), and 5). Department of International Trade Promotion (DITP).

30 December 2018:

The DFT had drafted the Announcement of the MoC re: prohibition of importing electronic waste. This draft has passed the public hearing procedure with no opponent, but not yet been approved by the Cabinet.
New Cabinet resolutions
18 December 2018:
Approved Draft: Draft royal decree issued under the Revenue Code on tax exemption (No. ..) B.E. …. (Extension of tax measures for educational support)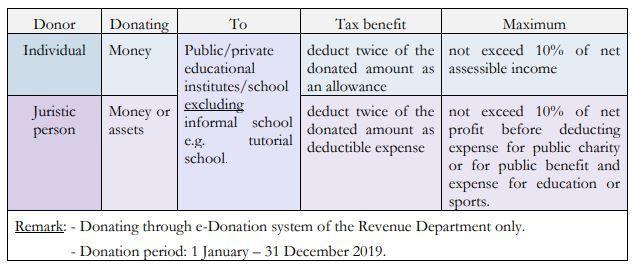 25 December 2018:
Approved Draft: Draft Act amending the Criminal Procedure Code (No. ..) B.E. ….
Offenders are restricted to be shown up for press interview (human dignity concern).
Fleeing during temporary release is subject to punishment, but prescription period shall not be counted during such escape.
Criminal offenses can be reported at any police stations, regardless of jurisdiction of investigation.
Remark: Previously, the victim can also report the case at any police station by the intention of the law, but most police practically did not accept to do so. Consequently, this will later be clearly stated in the code to avoid confusion.
Approved Draft: Draft Act on timeline of justice processE. ….
Set the specific duration and timeline of judicial process without affecting the independence in justice process, and any good faith action.
Enable progress tracking system.
Authorize officers to receive complaint in case of delay.
Publish the statistic of time consuming and sequence of each process.
Approved Principle: Draft Civil Partnership Act B.E. …. (same-sex couple) (total of 6 chapters, 44 sections), consisting 4 major issues as follows:
Definition and registration;
Relationship between partners;
Property management; and
Cease of civil partnership, succession, and prescription.
Royal Gazette Update: