Thailand legal news
8 May 2020:

The Social Security Board unanimously agreed not to increase the unemployment benefits from 62% to 75% due to the concerns of the possible unemployment crisis in the future and financial status of the fund.

10 May 2020:

The Civil Aviation Authority of Thailand ("CAAT") announced the following operating hours for airports: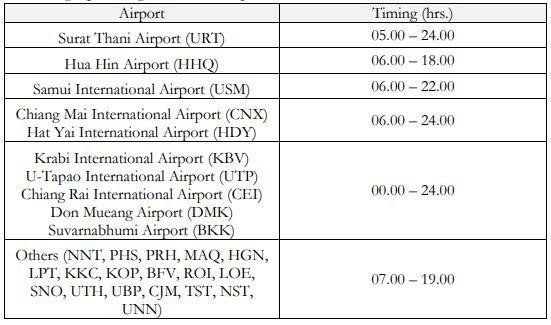 11 May 2020:

The Thai Chamber of Commerce, together with its partners, developed the web application "care" to prepare business operators for the new normal. This website offers voluntary registration. After registration, the business operators will receive advice and suggestions regarding requirements to comply with the COVID-19 measures. They will also receive a QR code to be presented at the establishment to assure customers.

13 May 2020:

The Board of the Office of the National Broadcasting and Telecommunications Commission (NBTC) approved 17 education channels produced by the Ministry of Education to be broadcast on channels number 37 to 53 to support distance learning during the global health emergency.

16 May 2020:

Service hours of public transport in Bangkok are changed from 17 May 2020 onwards in accordance with the easing of lockdown restrictions formerly announced by the government:
Public bus: 05.00 – 22.00 hrs.
BTS: Sukhumvit line 15 – 22.30 hrs./Silom line 05.30 – 22.30 hrs.
MRT: Purple line 05.30 – 22.30 hrs./Blue line 06.00 – 22.30 hrs.
The CAAT extended the ban on foreign aircraft entering Thailand (excluding state or military aircraft, emergency landing, technical landing, etc.) for one more month until 30 June 2020 to effectively prevent the spread of COVID-19 in the country.
New Cabinet resolutions

Approved Principle: Royal Decree to return unused public property to IEAT5 May 2020:
– The general industrial zone in the extension of Eastern Seaboard Industrial Estate (Rayong) located at Bo Win Sub-district, Sriracha District, Chonburi Province, and Tasit Sub-district, Pluak Daeng District, Rayong Province (7 Rai 2 Ngan 70.8 Wah2) shall be owned by the Industrial Estate Authority of Thailand (IEAT) to further be allocated and managed.
Approved Principle: Monetary Policy Committee's Performance Report (prediction for the year 2020)

Monetary policy goals: headline inflation in the range of 1-3%.
The Thai economy is likely to grow below 2.8% due to the COVID-19 outbreak which affects the economy of trade partners and the tourism sector in Thailand.
Headline and core inflation are expected to be 0.8% and 0.7%, respectively.

Approved Principle: Development project for Government Data Center and Cloud Services (GDCC) to reduce rental costs and secure the government systems
 Acknowledged:
Additional measures to help water users affected by COVID-191.  Metropolitan Waterworks Authority:
Reduce/waive water bill for the billing cycle of April – June 2020 (invoiced on May – July);

Return the deposit for water users type 1 (residence) and type 2 (businesses, government entities, state-owned enterprises, industries, and others);
Waive the fee for water bill payment when paying through Counter Service, 7-11, Tesco Lotus, Big C, and CenPay for 3 months from 17 April – 30 June 2020;
Stop temporary and permanent water supply cuts for 6 months from 23 March – 30 September 2020.2.  Provincial Waterworks Authority:
Reduce water bill by 20% for all types of users (and 3% for government entities and state-owned enterprises) and excluding monthly service fees for the billing cycle of April – June 2020 (invoiced on May – July);
Waive the fee for water bill payment for 3 months when paying through Counter Service and 7-11 (during 17 April – 30 June 2020) and Tesco Lotus and Big C (during 1 May – 30 June 2020);
Extend the payment via agents from within 10 days to within 20 days for 3 months (the billing cycle of April – June 2020).
12 May 2020:
Approved: Determining the important day of the country

Every 4th of December shall be the "Day of Love and Unity" to honor Rama IX, but this shall not be deemed as a public holiday.
Acknowledged: Report re: payments of unemployment benefits for insured persons affected by COVID-19

1,028,334 people applied for unemployment benefits between 24 March and 7 May 2020.
More than half have already received payments (568,604 people), while the payments for the rest are in progress (459,730 people).
The official tracking of 50,862 employers found the following:

Royal Gazette Update: