Highlights: – Personal income tax deductions for Long-Term equity Funds (LTFs)
scheme will be ended in tax year 2019
– New Land and Building Tax Act
– New Act amending the Civil/Criminal Procedure Code
– Incomes earned by the online stores will be reported and monitored
Thailand legal news
12 March 2019:

The Excise Department will increase the excise tax for sugary drinks again in October 2019. *It may affect the price or size of soft drink and other sweeten beverages.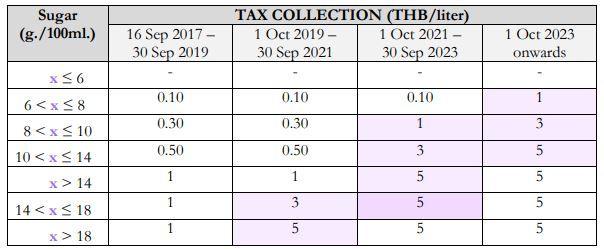 13 March 2019:

Director-General of the Revenue Department announced that the personal income tax deductions for Long-Term equity Funds (LTFs) scheme will be ended in tax year 2019, since Thailand's capital market is strong and steady enough to grow without tax relief measures. If this scheme will be continued, the regulations may be subject to change depending on the consideration of a new government. However, the Retirement Mutual Funds (RMFs) scheme will still be available for tax deductions.

14 March 2019:

The Ministry of Industry is developing new technology (e.g. QR Code for fees payment) to ease business operators and using Bar Code for database collection. This scheme is supposed to be ready in 3 months.

15 March 2019:

The Department of Business Development has introduced new features of the DBD e-Certificate File (an e-service that allows the public to request for a certified copy of the affidavit of a registered legal entity and other documents online). The new features are including:

Extend the services to cover all types of registered legal entities;
More types of documents can be requested online;
Both hard copy and soft copy are available.
*Please find more information on DBD website below:
https://www.dbd.go.th/news_view.php?nid=469414435
17 March 2019:

The court e-Filing system, allowing lawyers to submit pleadings and other court documents online, has already been adopted by 37 courts of justice nationwide. The e-Payment system has also been developed for court fees payment. This system is now available for civil cases only and will be developed to support all types of legal cases in the future in accordance with D-Court 2020 policy.

21 March 2019:

Toll fees for the Bangkok-Pattaya motorway (No.7) and Bangkok-Bang Pa-in-Bang Phli motorway (No.9) are exempted from 10-18 April 2019. This measure is given every year for the people who travel during the Songkran holiday (13-15 April 2019).
New Cabinet resolutions
12 March 2019:
Approved Draft: Draft Public Limited Companies Act (No. ..) B.E. ….
Adding fundamental right of minor shareholders.
Setting performance standard and responsibility of the directors to comply with the principle of good governance e.g. prohibiting cross holding.
Amending provisions regarding Merger & Acquisition (M&A) and conversion of public company into private company.
*Aiming for Thailand to become an 'Easy for Business' country.