Thailand Legal News
Advanced Info Services Pcl. (AIS) to takeover Triple T Broadband (3BB):
On 4 July 2022, AIS has approved Advanced Wireless Network Co., Ltd. (AWN; AIS's subsidiary) to enter into an Undertaking Agreement with Jasmine International Pcl. and Aeumen Co., Ltd. (ACU; Jasmine's subsidiary) to purchase approx. 7.5 billon shares of 3BB (approx. 99% of the total number of shares sold), totaling approx. THB 30 Bil. (USD 800 Mil.). Due to this takeover, AWN will also acquire another 2 subsidiaries of 3BB; Triple T Internet Co., Ltd., and In Cloud Co., Ltd. Prior to the acquisition, AWN will request permission to enter the transaction from the Office of the National Broadcasting and Telecommunications Commission (NBTC), and it is anticipated that the share purchase process will be completed successfully by the end of March 2023.

Cabinet Resolutions  24 May 2022
The improvement of the lead time for governmental approval:

The Cabinet has acknowledged the guidelines for improvement of the approval consideration period by government agencies. In this regard, the time needed to process applications will be cut in half (from the normal time process), as standards for the processing times of certain government organizations are determined from the beginning (the documents' submission) until the end of the application consideration process (the signing/committee's resolution). Application for Foreign Business License (the Department of Business Development) is an example of an application whose approval consideration timeline will be shortened.
https://www.thaigov.go.th/news/contents/details/54960 (item no.7)
Legal Principles of Platform Economy:
In order for platform business operators to be properly supervised by the relevant government agencies, to undertake fair business practices, and to protect users'/consumers' rights when utilizing platform services, the legal principles of platform economy will be implemented. There are 10 legal principles as follows: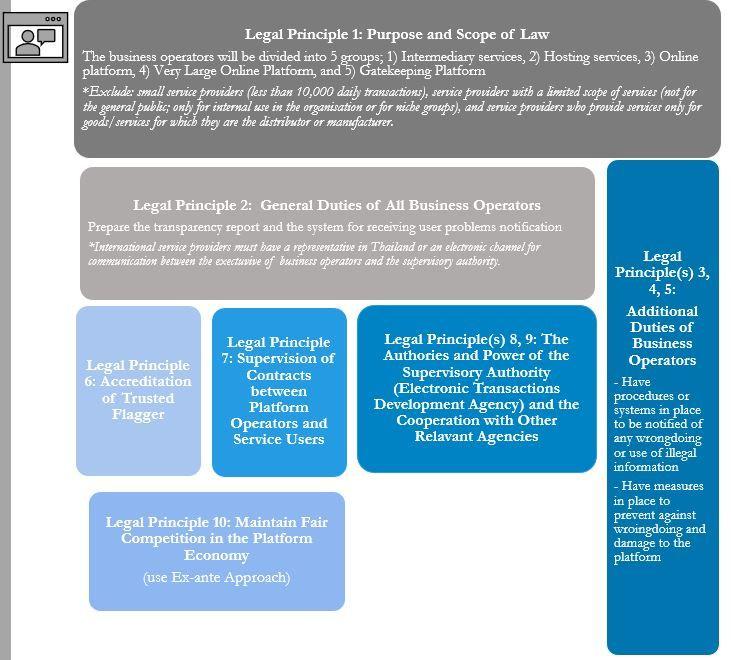 https://www.thaigov.go.th/news/contents/details/54960 (item no.8)
Government Gazette
Tax relief measure for digital assets:
Royal Decree(s) No. 744 and 745 (B.E. 2565) issued under the Revenue Code regarding Tax Exemption was published. The purpose is to exempt Value Added Tax (VAT) for transfer of cryptocurrencies or digital tokens traded on a digital asset exchange platform in accordance with the law of digital asset businesses, and for transfer of digital currencies issued by the Bank of Thailand (BOT). The exemption period commences from 1 April 2022 until 31 December 2023.
https://www.ratchakitcha.soc.go.th/DATA/PDF/2565/A/033/T_0001.PDF
https://www.ratchakitcha.soc.go.th/DATA/PDF/2565/A/033/T_0004.PDF
Government's measure to attract High-Potential Foreigners:
Under this measure, the Ministry of Interior (MOI) aims to grant exclusive benefits to high-potential foreigners who qualified for Long-Term Resident (LTR) Visa for a long stay in Thailand. The Revenue Department also offers tax privileges for those qualified foreigners as well.
The MOI Notification set forth the qualifications and requirements for a 10-year LTR Visa, in which it will be proposed to 4 targeted groups:
wealthy global citizens;
pensioners from abroad;
Work-from-Thailand professionals; or
Highly-skilled professionals.
The process of obtaining a LTR Visa is as follow:

Moreover, the offered tax privileges are classified by the types of qualifications as shown below:
Government Gazette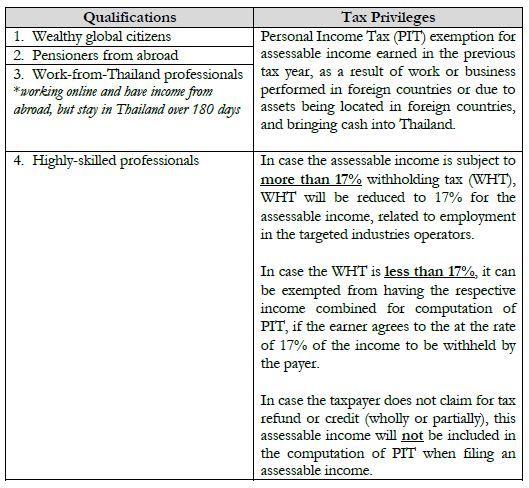 https://www.ratchakitcha.soc.go.th/DATA/PDF/2565/A/032/T_0029.PDF
https://www.ratchakitcha.soc.go.th/DATA/PDF/2565/E/124/T_0011.PDF
Public Limited Companies Act (No. 4) B.E. 2565 (2022):
On 24 May 2022, the amendment to the Public Limited Companies Act has been enacted, in order to add the conduct of electronic meetings and other related matters for public limited companies. Therefore, this will allow public limited companies to hold board of director's meetings and shareholders' meetings via electronic means under the requirements and procedures specified in this Act.
*Remark: the conduct of e-meetings by public limited companies during COVID-19 pandemic is governed under the Emergency Decree on Electronics Meetings B.E. 2563 (2020).
 https://www.ratchakitcha.soc.go.th/DATA/PDF/2565/A/032/T_0018.PDF