Thailand legal news
• 19 November 2018:
– BOI agreed on investment supportive measures especially in huge projects with high economic effect, high technology industries, high value
knowledge-based industries. For example, Smart City scheme, Innovation and digital environment, etc.
– Minister of Commerce ordered director-general of the Department of Intellectual Property to void/disapprove patent filing on "Marijuana extract" using section 30 of the Patent Act (a plant extraction cannot be registered). However, for the filing of other invention involving Marijuana as a component may still be legally proceeded.
• 22 November 2018:
– IKEA planned to cut 7,500 administrative jobs (worldwide) to reorganize its business. The company also planned to reduce size of stores and focus more on online shopping. On the other hand, the reorganization could lead to the creation of 11,500 new jobs as it expands into 30 new smaller-format stores in cities around the world. • 27 November 2018:
– State Railway of Thailand (SRT) is going to file a lawsuit against Siam City Cement, Shell Thailand, Unique Gas, and other private companies and households who intrude the land of SRT for approx. damages of THB 113 million to proceed Mae Nam railway station (Rama III road) commercial development scheme (260 rai, value THB 13 billion).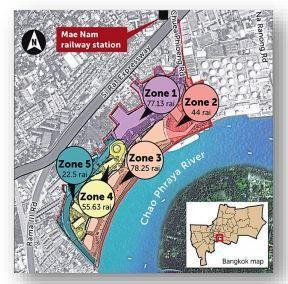 • 28 November 2018:
– Ministry of Commerce cooperated with agricultural sectors to set standard price as a reference for cost estimation of economic value perennial trees which shall be used as a collateral. The process will be ready approximately in February 2019.
Note: In Thailand, there are 6 kinds of assets allowed to be business collateral under the Business Collateral Act:
1. business;
2. right of claim e.g. accounts receivable;
3. moveable property used in business e.g. machinery, material;
4. immoveable property in real estate business e.g. developed housing;
5. intellectual property e.g. trademark, copyright; and
6. other assets prescribed by ministerial regulations e.g. perennial trees.
• 29 November 2018:
– Fine for motorcycles riding in footpaths had been increased from THB 500 to THB 1,000 (effective immediately). The awareness was raised after a student was knocked down on the footpath by a motorcycle-riding messenger.
• 30 November 2018:
– Ministry of Finance looked into 2019 economic stimulus measure by returning 5% on VAT (maximum THB 1,000) through PromptPay account to taxpayers who make a payment via debit card at stores with EDC/POS machines on 1-15 February 2019. THB 10 billion budget is expected to be used to subsidize this scheme. (Not yet approve by the Cabinet)
New Cabinet resolutions
20 November 2018:
• Approved Draft: Draft royal decree issued under the revenue code on tax reduction and exemption (No. ..) B.E. …. (Improvement of Personal Income
Tax (PIT) collection for dividend derived from ASEAN Collective Investment
Scheme: ASEAN CIS)
– Taxpayers, who reside in Thailand and receive dividend from ASEAN CIS and allow to deduct 10% withholding tax from dividend, can exclude such
amount from PIT calculation.
27 November 2018:
• Approved Draft: Draft Act amending the Revenue Code (No. ..) B.E. …. (tax measure to support donation for political parties)

• Approved Draft: Draft Public Limited Companies Act (No. ..) B.E. ….
(modernized on 6 issues):
1. Advertisement can be published on digital media, aside from newspaper.
2. Documents delivery.
3. Directors meeting through digital media.
4. Meeting calling.
5. E-proxy (authorize someone as a proxy to attend shareholder meeting by
electronic method)
6. Allowing Deputy Minister to publish the announcement.
Royal Gazette Update: