Grünkorn & Partner Law Co., Ltd.
3 rd floor Viconship Building
6-8 Doan-Van Bo Street
Hoi Chi Minh City
Vietnam
Tel.: +84 8 6261 8231
Fax: +84 8 6261 8218
Table of Contents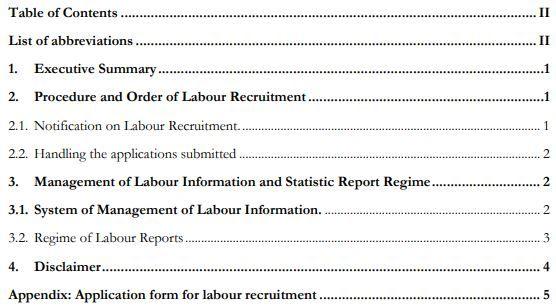 List of abbreviations
Circular 23             Circular No. 23/2014/TT-BLĐTBXH dated 29 August 2014
Decree 03              Decree No. 03/2014/NĐ-CP dated 16 January 2014
Labour Code          Labour Code No. 10/2012/QH13 dated 18 June 2012
MoLISA                  Ministry of Labour – Invalids and Social Affairs
Dear Reader,
Keeping brochures up to date involves a lot of effort and considerable cost.
The complete version of this brochure is therefore complimentary for our clients, associations and public organisations only. To all other users we
charge a cost contribution of 50 EUR. Thank you for your understanding.
If this brochure is interesting to you, please contact us by sending an e-mail to: [email protected] naming the brochure(s) you would like to obtain.
Thank you.
Best regards,
Lorenz & Partners